FAQs
A Harvey M2 neatly tucked away at the back of a corner cupboard together with a pure water drinking system under the kitchen sink. This is an installation at Upper Rissington on the new Bovis and Lindon Homes development.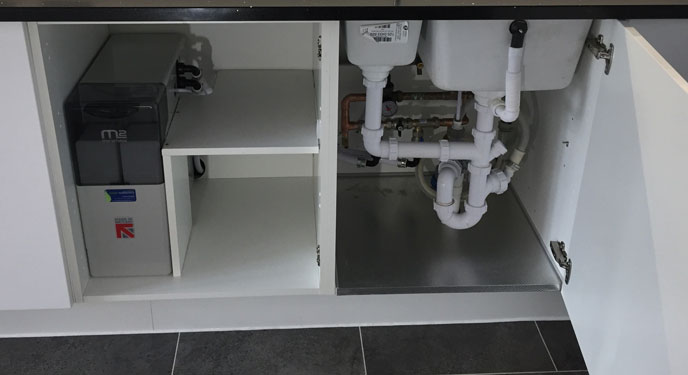 How much does a water softener cost?
Our average installed water softener cost including the VAT is £1,600 but can vary between £925 and £3,000 depending on the size and type of softener and whether a triflow tap is ordered. More complex installations also add to the cost. Our team will discuss all the details with you during your survey.
Find out more
How much does a water softener cost to run?
Two people in a hard water area of 300mg/l (This is typical in the Cotswolds) using a block salt softener will spend about £5.00 – £7.00 a month. Tablet salt is less expensive.
Find out more
How long will my water softener last?
A good quality water softener system will last 15 to 20 years or longer!
Can I take my water softener with me when I move?
Yes. We install all our softeners on manifolds which allow the softener to be isolated and the bypass valve opened to allow hard water to service. Call us and we will remove your softener and reinstall it in your new property, assuming you are moving locally!
Do water softeners pay for themselves?
How big is a water softener?
Where does a water softener go?
A softener is normally installed close to the rising main / stop cock. This is usually under the sink but in an older house can be anywhere on the ground floor within the building. Some properties even have two incoming mains supplies! During your free water softener survey, our expert engineer will discuss all the options with you.
Find out more
Request a call back here
Do I need a hard water tap?
We recommend a hard water drinking tap in the" food preparation area" usually the kitchen. We will either alter the plumbing so the cold supply of your kitchen is hard or fit a faucet tap or triflow tap to provide hard water. Most people like the choice of having both as tea and coffee tastes better with soft water and tends not to stain the cups as much. In hard water areas above 435mg/l it is mandatory to have a hard water tap.
Find out more
Will a water softener affect my water pressure?
Putting anything in the pipe work will affect water pressure, however it doesn't normally affect it to the extent that you will notice. You will get between 0.3-0.5 bar pressure drop across the softener. We install all our softeners using full bore valves and pipework so the pressure drop is minimised.
Find out more
Does a water softener need servicing?
Water softeners are likely to require some attention over their lifetime. Manufacturers specify varying service intervals from annual to biannual – some recommend leaving them alone unless they need attention. Whatever the option we will be there to offer our help and assistance.
Find out more
Can I drink softened water?
Yes. The World Health Organisation says that providing your incoming water hardness is below 435mg/l (most of the Cotswolds is around 300mg/l) it is safe to drink. However, soft water shouldn't be used to make up baby food formula or by those on a low sodium diet. If in doubt drink hard water.
Find out more
How to isolate your softener
Operating the valves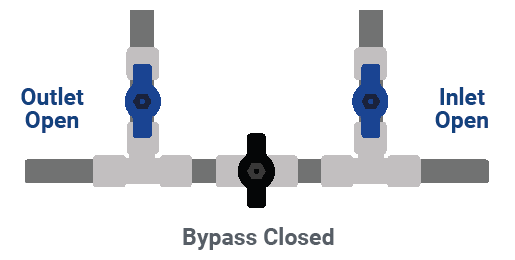 Softener on
On installation, your water softener will have been turned on with the inlet and outlet valves inline with the pipework. The bypass should be cutting across the pipe, with the outlet, inlet and bypass all facing the same direction.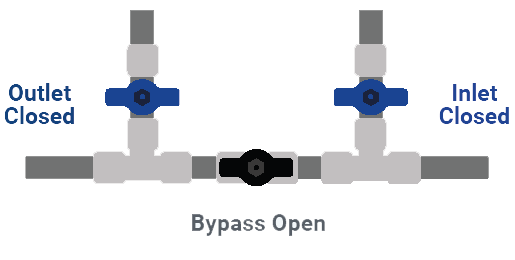 Softener off
To isolate and turn off your water softener you can simply bypass it. To do this simply close both the inlet and outlet valves by turning them a quarter of a turn, then open the bypass valve by turning it a quarter of a turn in the opposite direction, this will now reinstate a hard water supply to the property.